Back from NYC… I already reported on the big stuff I saw there; and here is a small but annoying thing I also saw.
My hotel room had a drip coffee maker, a standard item in American hotel rooms (and much better than the old dependence on Room Service). But this one had one unusual feature. Instead of the usual plastic basket that you put a filter bag into, this one had no built in basket. The brew basket came in the filter pack – and was disposable.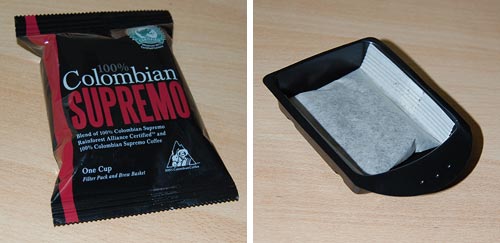 You can see the content of the pack in the photo: the black plastic tray has a hole in the bottom, and you throw it out with the soggy filter bag after one use. The old system with a reusable basket was perfectly good – whatever gave anyone the idea that we need more trash on this planet?!…
And ironically, the packaging has the green "Rainforest Alliance" logo at the top which asserts it is environmentally friendly. Yah right!