I wrote recently about the batch of WW1 postcards left by my great-uncle Ettore… and while the cards described in that article focus on hate propaganda, there was also one postcard  that is quite endearing, and here it is: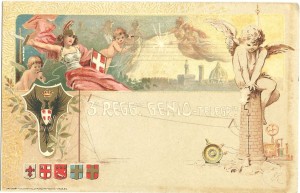 This postcard was issued 100 years ago by the Third Regiment of Telegraph Operators – basically, a unit of the Signal Corps of the Royal Italian Army. Click it to get a closer look!
The endearing scene shows some classic Italian city (looks like Florence), a bunch of cute cherubs using a very early telephone, a war goddess (?),  and various electrical gear – antennas, telegraph lines, and unidentified apparatus that no doubt would be familiar to Guglielmo Marconi.
Those ancient telegraphers were really proud of their trade; they could see how wonderful, how outright angelic, the ability to talk at a distance was. Today we have instant connectivity, anytime, anywhere… but that early innocent sense of wonder is gone, and I can't think of one internet provider that uses angels in their advertising.
Those were the days…