We needed a standing lamp for the living room, and went shopping. We started with some of the larger lighting stores around town, and found a great many lamps, mostly imported from China. Like most manufactured goods today they were inexpensive and looked like they would do the job – for a while. The workmanship was usually shoddy and of course there was nobody to tell that I prefer the on/off switch to be just at this height, and I need a longer electric cord, and would love it if the lampshade were just a bit wider…
After a while we were beginning to consider compromising, but decided to first try Karl Marx. This is a small old style shop in downtown Jerusalem; it has been there forever, and I never entered it, though it did attract my occasional amused glance because of the coincidence of its founder's name.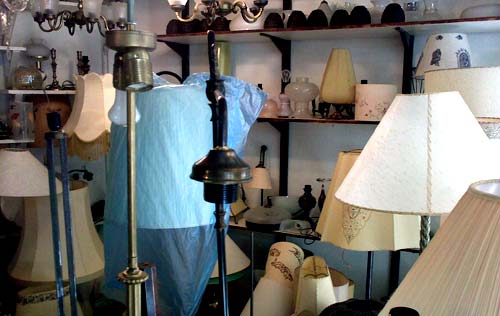 The shop occupied a tiny room crammed so tight with lamps and lampshades that one could barely stand in it (the photo doesn't begin to convey this). And there we found a lamp we liked, which we could get with any shade we wished, because they're made to order by the owners; in fact, we were guided courteously through all the possibilities and ordered one decorated to our specification with a frieze in a color and style to match our living room rug. And of course they promised to construct it with the switch where I wanted it, the cord the needed length, and so forth. The quality and workmanship, too, were perfect.
This is one of those old fashioned Mom and Pop businesses that represent the skill and dedication of a lifetime (or more), and produce goods handmade to a standard no longer seen in the mass-produced disposable products that flood the large chains. I should be sad discussing it, because these wonderful shops are fast disappearing; but I'm too delighted in the excellent lamp Messrs. Marx made for us!