Was at Office Depot and noticed a keyboard on sale that was touted as the Anti-RSI keyboard from A4Tech.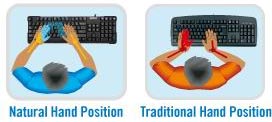 This, according to their web site, has an innovative "Natural A shape" layout that allows you to type ergonomically with your wrists held in their natural position, rather than bent at a strained angle. The site shows this convincing-looking diagram:
So I examine the keyboard, and it's the exact same layout as on a normal one, but the keys are diamond-shaped so the lines between their edges have that "A" shape.

Which is nice, except that when I type I hit the tops of the keys, not their edges, who for all I care can have any shape at all. In fact, I hold my wrists at the correct angle when using any keyboard, and would do the same on this one.
So… either I'm missing something, or this is nothing but hype.
Any insight, anyone?