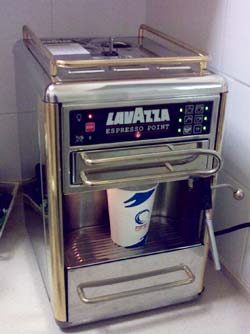 I was visiting an office where they had one of these delightful Espresso machines, an Espresso Point by Lavazza, and tried to make me a cup.
I put in a paper cup and a coffee cartridge, pushed the button at the right of the panel next to the size I wanted, and instead of that steaming coffee, I got a blinking red light at the left (marked below with an arrow).
I tried to puzzle the meaning of this light. It had the icon you see, with a coffee cup and an X. What did it mean? Obviously in a large beverage dispensing machine it would stand for "I'm out of cups"; but this machine did not store cups. It might mean "You forgot to put in the cup" – only I hadn't. What else? "Smash a cup before I agree to make coffee"?
After much futile experimentation a local came and said "Oh, the machine is out of water", and she proceeded to pour some in at the top. I could finally enjoy my coffee.

But what a stupid design choice… the cup with the X has no relation to missing water; and indeed, the fact that the cup looks identical to those in the icons at the right side of the panel only reinforces the mis-interpretation.
Shame on you, Lavazza designers!