Commonsense Design – the discipline – is one passion of Nathan Zeldes (me). Applied physicist by education, technologist by vocation, and maker of things (hardware, software, and "classic" DIY) by avocation. For some of my other passions, check my web site, http://www.nathanzeldes.com, which will show you what I do for a living, and  my hobby site here.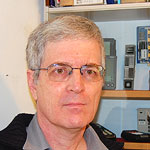 I've been a designer and maker of things, at work and at home, since my early teens. My favorite part of the making process has always been the design of the human interface, the Human Factors Engineering bit: figuring out how to make everything – the placement of the controls on an instrument, the readability of objects on a computer screen, the heights of a set of shelves – just right for an optimal user experience. It never ceases to amaze me that many industrial designers and software developers seem to miss out entirely on the importance of this part. I run into so many designs that just don't make sense, that make your fingers itch to take the thing apart and improve on it! But then, there is also the enjoyment of the rare cases of superb design that make it all worth bearing.
Commonsense Design – the blog – is about that: observations of the design of everyday products, praise for the good, critique of the bad, improvement suggestions for both, and the occasional off-topic ramble.
It is also about you, my reader. You're welcome to join the conversation by sharing your insights in the comments. Maybe together we can raise enough of a buzz to make those designers notice and improve their ways.
Enjoy!
_____________________
To make contact with me, which I welcome you to do, use this page.