Here is a bit of outstandingly smart design I saw in Terminal Five at London Heathrow airport.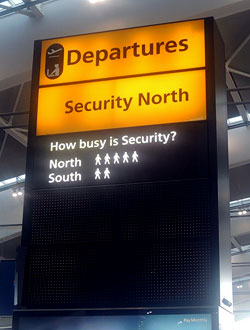 To fully appreciate the ingenuity, you should know that there are two security inspection areas (you know, where they check your shoes and X-Ray your hand luggage): Security North and Security South. Both serve the same function, and they're located a minute's walk apart in this huge hall.
What this real-time information sign (and the similar one at the South area) does, is tell you that right now, you'll be much better off to make that one minute trek, because the other area has a much shorter line.
Neat!