My father, God rest his soul, was a young physics student when Israel's war of independence broke out, and he was among the defenders of the Jewish Quarter in Jerusalem's Old City. When the quarter fell to the superior forces of the Jordanian Legion, he was taken prisoner and spent 9 months in a POW camp near Mafraq in Transjordan.
When he came back he brought with him a humble but interesting artifact: a small suitcase, about the size of a modern carry-on, made entirely of tinplate. This survived to this day, and has an interesting story to tell.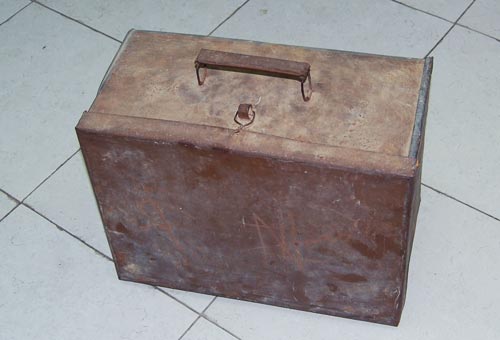 My father, it turns out, had ample time on his hands in that camp, and he devoted it to studying Physics (he was to become a Physics professor for the rest of his life) and to teaching it to any of the other prisoners who found it preferable to doing nothing. In return, one unnamed prisoner used his skill as a tinsmith to produce this suitcase for my Dad.
The source of the material is obvious if you turn the thing over: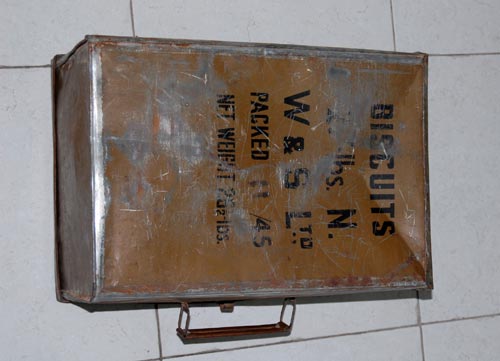 This was a standard tin of biscuits, provided to the camp's residents either by the Jordanians or by some welfare organization. They must've been rather stale, as they date to 1945, but in war you aren't choosy; meanwhile the empty tin was recycled into this suitcase.
The craftsmanship and attention to detail in this item is wonderful indeed, considering the difficult conditions of its manufacture. The potentially sharp edges are all doubled up for safety and convenience. There is a folding handle, hinges, even a hasp – and everything is made from tinplate and steel wire. Here are some photos of the details: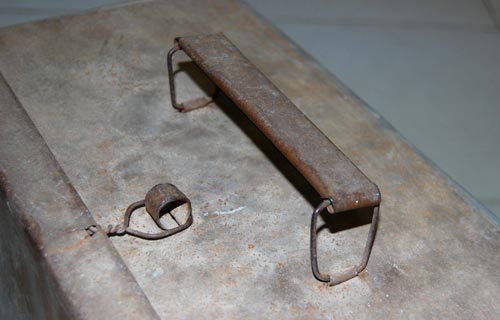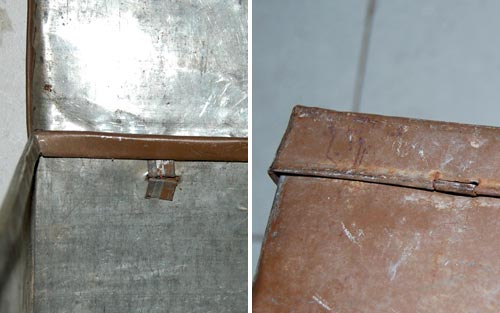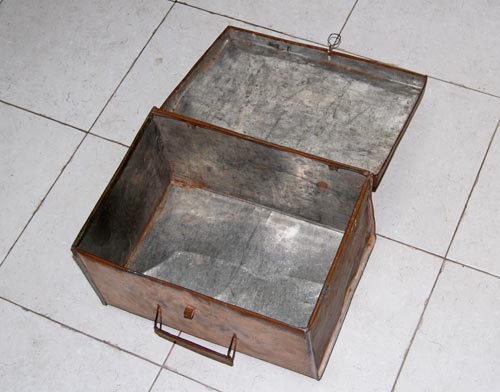 Good job, unknown tinker!