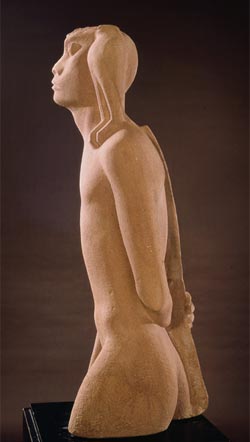 One of the most famous sculptures made in Israel is "Nimrod", created in 1939 by Itzhak Danziger.
A powerful figure in red sandstone, it depicts a naked young man with a falcon on his shoulder and a sword held behind his back, looking intensely ahead.
This is Nimrod, the biblical great-grandson of Noah, king of a number of  cities in Mesopotamia, and traditionally considered the leader of those who built the Tower of Babel. He is also cited as a mighty hunter, the original prototypical hunter of animals.
So what?
So, in October 1988 the National Geographic Magazine published on its cover a photo of a small carving, in mammoth ivory, of a male human head. This was found in Dolní Vestonice in Czechoslovakia, a rich archaeological site that had yielded a number of sculptures, including one of those obese "Venus" figurines. The carving is dated to some 26,000 years ago or earlier, and is the earliest representation of a specific person that has come to us from our ancestors.
And it instantly evoked in me the face of Danziger's Nimrod, as you can see in the photos below: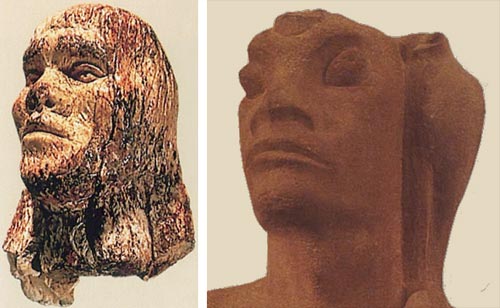 Both figures represent hunters (well, we can't know for sure what the caveman on the left did, but I doubt he was into computer programming). Both hunters come from the dawn of human history. And both have the same indescribable expression on their face.
What a cool coincidence!