Unusual business cards are not rare; many companies and individuals try to deviate from the traditional white rectangle design in the hope of standing out from the crowd. But today I was handed a card that goes far beyond this. Here it is: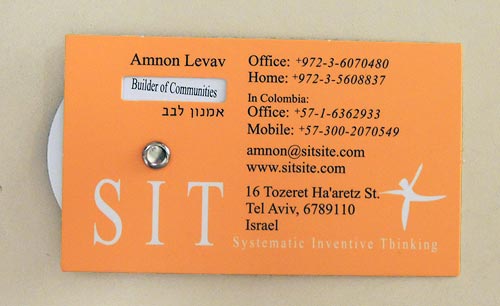 This card has a rotating wheel that allows different short phrases to be viewed through a cutout in the cardboard. The wheel carries the phrases "SIT International", "Father and Uncle", "Facilitator", and "Builder of Communities".
Unusual, but at first glance this seemed just one more gimmick. You see metal cards, wooden cards, cards with laser engraving… so this one has a wheel. Nice, but…
And then it hit me: there is a deeper purpose to this design! You see, once the recipient gets the idea that rotating the wheel will reveal more information, it is inevitable that they'll rotate it in anticipation of each new snippet of insight about the card's owner. As they do that, their interest goes beyond the mere form of the card; they engage with its content instead. Most information on a business card just slides past you; but through this tiny experience you can't help internalizing what the phrases say about the person: the fact that he is a father and proud of it; the fact that he values his skill as facilitator; the fact that he does not care about formal titles. The wheel trick gets this knowledge across in a far more engaging manner than just reading a static card would do.
Incidentally, Amnon is the co-founder and manager of a company specializing in innovation methodology, and he told me the design for this card was undertaken as an exercise in applying that methodology; you can read about that in this article.
And here is the back side of the card – it's quite cool that the stylized man of the company logo actually turns somersaults when you rotate his wheel!