I was at a fancy home and kitchenware store and saw the box in the photo here, containing – it says on the front – "Salt & Pepper Napkin Rings". This sounded weirdly intriguing, like "Oregano & Thyme Spark Plugs", so I took a closer look. Turns out this is one of the stranger design ideas I've had the pleasure of meeting.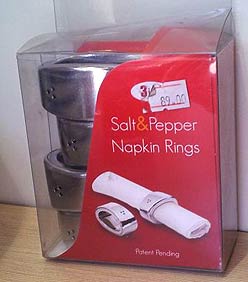 Napkin rings, in case you haven't dined in the fancy places that use them (I don't, but my grandmother used to have them before paper napkins appeared), are used around linen napkins when setting a table. What do they have to do with condiments? Well, as you can see in the close up, each of these rings has two inner compartments that can be filled with salt and pepper, giving each diner a personal set of shakers… combined into one unit (a dubious idea IMO), integrated into the napkin ring (a terrible idea IMHO).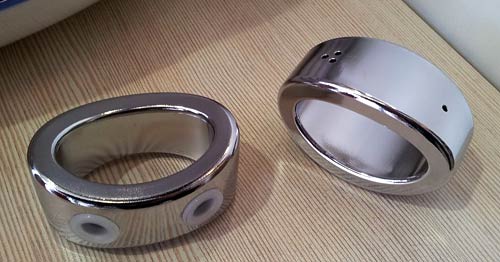 So why is this a bad idea? Many reasons, from the hassle of having to keep them all filled, to the inevitable spills when a ring is overturned, to the difficulty keeping one condiment in while pouring the other out… but primarily, because why on earth do it? A Swiss Army Knife has its benefits when you're a Swiss soldier, or a boy scout… but not every set of disparate functions need to be designed into an uneasy coexistence!
Have to hand it to them, at least… if you ignore the two plastic stoppers, the ring is surprisingly elegant looking! 🙂