The intense pressure of natural selection has given us many magnificent examples of optimized design in nature. Here is a lovely case: the dentition of Heterodontus Portusjacksoni, the Port Jackson shark. I saw these jaws at a nature museum and just had to snap a photo…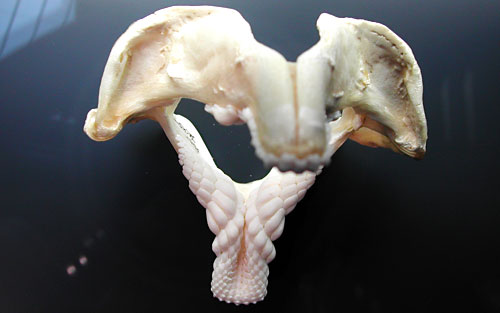 This shark has unusual teeth – none of the flesh-ripping daggers that the "Jaws" movie brought to fame (while giving sharks a bad name that may help drive them to extinction). It feeds on mollusks, and uses the tiny spiked teeth in front to grab them and the blunt ones in the back to crush them.
But what I found most appealing is the geometrical structure of the entire set, which has a mathematical elegance and hints at a similarly elegant growth mechanism. One can imagine that the whole complexity of these teeth is generated in one continuous process governed by a very simple equation. Just like a fractal…
Math and nature and beauty, all in one chunk of bone!