We veteran road warriors know the drill: go thru security, then hunt for a power outlet to recharge our computer at as we wait for our flight. This often involves scouting the terminal halls hoping to find the occasional wall socket intended for the janitor's vacuum cleaner, hoping there would be a vacant chair near it. Of course, these are scarce, and as likely as not to be taken by a fellow traveler.
But on my recent trip to Boston I saw a much different approach to our problem. At Logan International airport, there are rows of seats at each gate with power outlets built right into them – lots of outlets, enough for all of us business travelers – and for those serene kids with iPods and ear buds…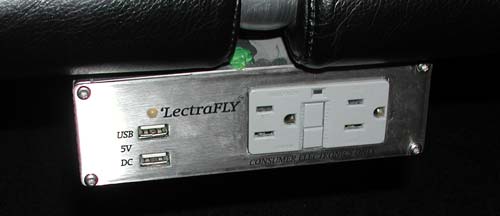 Note the variety of sockets – 110VAC, 5VDC via USB… These guys have thought of everything! Add the hassle-free WiFi they have, and you have the most notebook-friendly airport terminal I've ever seen.
Wayda go, Logan!