I spent a weekend with family in Neot Semadar (Shizafon), a Kibbutz in the Negev desert in the south of Israel. And I mean desert: he place is searing hot in the day, cold at night, and all around is sand, rock and the majestic desolation typical of deserts anywhere.
In Israel we're used to transforming the desert, using irrigation to grow crops; but Neot Semadar went one step further. They built the Kibbutz pretty much with their own hands and to their own designs, and they applied an eco-friendly philosophy throughout. At the same time they gave free rein to imaginative artistic expression, with amazing results.
Most impressive is the arts and crafts center, lovingly constructed over more than a decade. Housing multiple art workshops, it combines an exuberant style reminiscent of Gaudi's Barcelona works with a passive cooling system in the central tower (now nearing completion). Water will be sprayed at the top of this huge hollow chimney, and its evaporation will cool the air; the cold air sinks rapidly, and is spread throughout the building through underground conduits.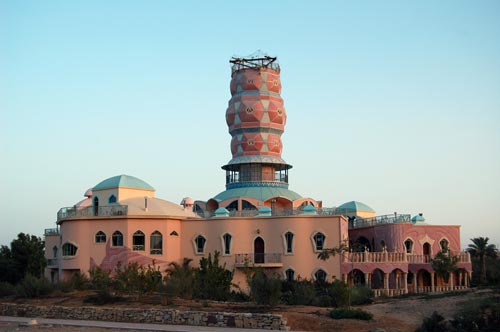 The arts and crafts center is finished with loving detail; everything is decorated with animal and abstract shapes, like here: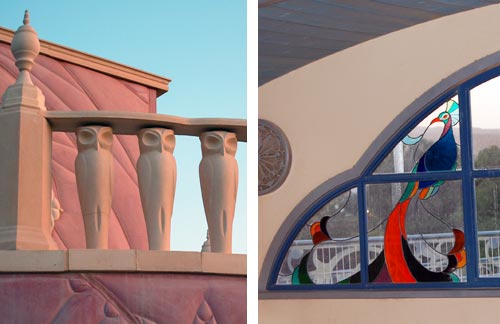 The same passive cooling concept is used throughout the Kibbutz; here is a typical family home, built of thick adobe (mud) bricks that keep the inside cool in the day and warm at night. The small tower above feeds the desert cooler system. This works quite well, I can attest.  The entire place is cooled with similar systems; not an energy-guzzling air conditioner is to be seen.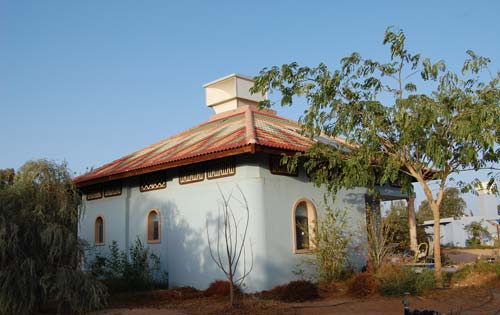 The Kibbutzniks here have managed to make the desert yield organic crops that let them produce and sell excellent dates and other fruits, as well as wine, cheese, and olive oil. Of course they use irrigation, and the main water reservoir for this is an artificial lake, complete with fish and lush green vegetation. The lake is fed with residual water from a nearby desalination plant, thereby recycling otherwise useless water to grow salinity-tolerant crops.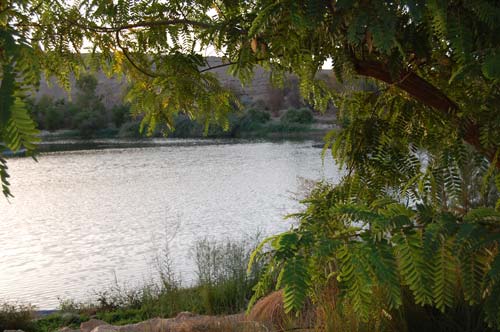 With so much sunshine, it was inevitable that solar energy be used – here is a tractor shed with photovoltaic cells covering its roof.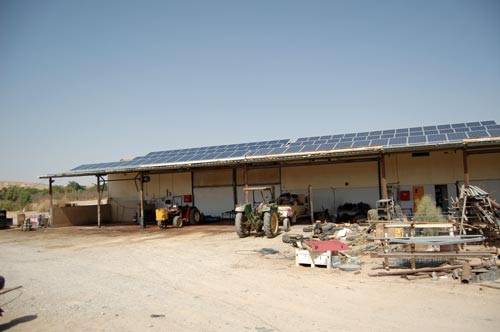 Lastly, a general view of the center of Neot Semadar. You see the arts and crafts center and a few of the residential homes, all with their funny cooling towers; and you see how improbably green it all is, against the background of the barren desert mountains.
For more and larger images, see my flickr photo set.
Information about Neot Semadar is on the Kibbutz's web site.