There is no place quite like Israel, and this is reflected in many design decisions made in this country. For instance, consider the Arrivals Hall at Tel Aviv's Ben Gurion International Airport, which is designed around our family-centric cultural attitude.
While in many airports arriving passengers just go out into the street to pick a taxi, in Israel they go out into a huge arrivals hall. You see, it isn't exactly about arrivals… it's about reunion. Its Hebrew name translates as "Welcomers hall", which reflects the fact that Israelis just love to welcome their friends and relatives when they come from overseas. Entire families show up to pick up their returning kin, and they can't wait to hug and kiss them! Hence the huge waiting hall. This setup poses a unique design problem: how to allow the arriving passengers, as they file out of the door from Customs with their luggage carts, to come into the hall without this door being jammed with hugging, kissing family groups?
In the beginning, in the old Terminal 1, the police kept the crowd away with a plain crowd control fence; which of course only made my countrymen laugh. Would they let a flimsy fence keep them from embracing auntie a few seconds earlier? The younger kids would simply squeeze through or jump over the barrier. So when they built a proper arrivals hall they replaced the fence with a real moat, a long pool with water fountains in the middle. Moats have effectively kept attackers at bay here since the days of the crusaders, so this actually worked. And when they built the new Terminal 3, they kept the idea, now as a triangular glass fence with water flowing down its edges (a good idea, since kids can't fall into the moat in this arrangement). You can see one of many sections of this barrier in the photo.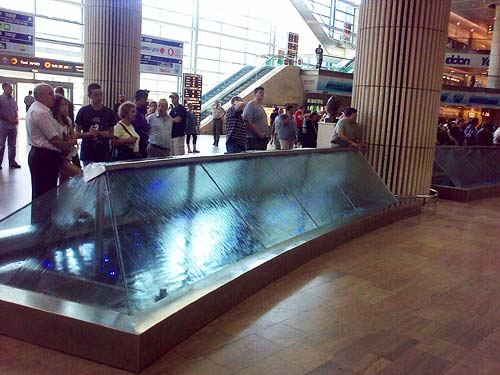 So now the families wait behind the water, and strain their eyes to see who will be first to spot auntie as she comes out that door at the far end of the enclosed area… and to help them in this, the airport has placed a large screen above the door that shows live video of the people approaching the door on its other, hidden side.
What a family-friendly airport! 🙂