I was shopping at Office Depot, and next to the checkout line they had this bin full of cheap items on sale. And in it, thrown carelessly with less decorum than potatoes get at the grocer's, were blister-packaged Flash memory cards.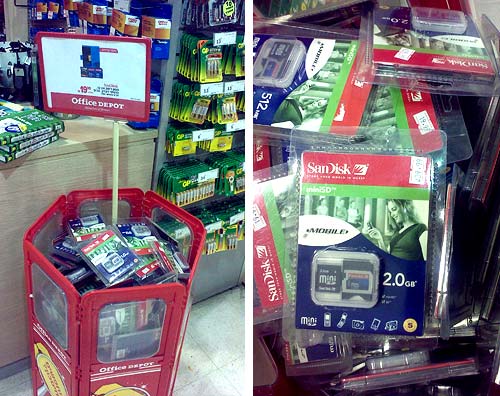 They had 2.0 GB units selling for a pittance. That's two billion bytes, or 16 Billion bits. I remember Thirty years ago, when a solid state memory board of 16K Bytes would come very carefully packaged – rightly so, as it cost thousands of dollars. The unit in the blister pack shown has a Million times as much capacity and costs 10 bucks. Of course we all know how Moore's law is driving densities up and price per bit down, but this infamy of selling Gigabytes like peanuts brings it home with some poignancy.
And Below is a similar case, this from our neighborhood general store. Here the Flash Disk-on-key packs are hanging from a shelf alongside Energizer batteries, chocolates, candy and chewing gum packages.
You can bet the core memory stack I show here was not sold with chewing gum…