Continuing the theme of using the right tool for the job, here's my take on a tool that is everywhere: the trusty old stapler.
Most everyone uses the usual kind if stapler, either the small size 10 or the regular standard office model. The problem is, neither of these is any good for more than a few pages. Yet they are readily available and people use them, accepting the frequent frustration of misaligned, crooked or ineffective fastening for thicker jobs.
My recommendation: go and buy the two following units, which do a far better job on midsized print jobs. The first is a plier-stapler, a replacement for the standard office model. It uses the same staples, but its grip is far better, its alignment is perfect, and applying the required pressure for a perfect fastening is natural and effortless. No office or home should be without one of these.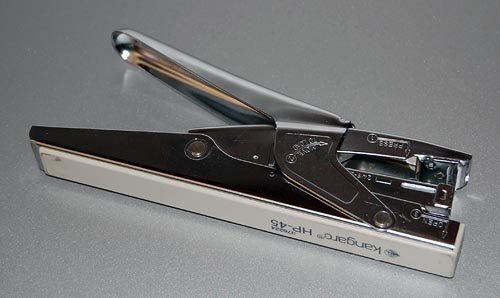 The second may not be needed in every home, but if you create serious documents you should get one: a heavy duty stapler, one designed to grab – in the case of the one in the photo – 75 pages of paper with ease. Be sure to try before you buy, though – I've seen many poorly designed models that were almost useless. But a good make – I'm very happy with my Max model HD-3D, for one – will slice through those fat printouts and photocopy stacks like butter. That's what you need!