I discussed the growing obesity of our paperbacks before… and now, a look at our print magazines, with show the exact opposite trend.
This trend is visible in many magazines (Fast Company is a good example), but I illustrate it with an old favorite, Scientific American. Here are three issues from my shelves. See the difference?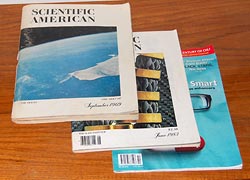 The issues shown are from September 1969, June 1983, and October 2009. The difference in thickness is striking indeed: 10.6, 5.3 and 2.2 millimeters respectively. As far as pages go, the counts are 288, 156 and 72. What happened??
One difference is article length: a typical article in 1969 would run to some 20 pages long, including about 8 pages of advertisements. In 1983 it would have 11 pages including 1 page of ads. In 2009, 8 pages with no ads at all. The number of articles ("features", in today's terminology) has also changed, going down from 10 to 8 to 7.
In other words, in the merry Sixties readers were treated to ten 12-page-long (net) articles and lots of ads; in the eighties, they had eight ten-pagers and fewer ads; and today we can read a paltry seven articles with 8 pages each, and almost no advertising.

Is this good or bad? Admittedly there's some attractiveness in ad-free reading; on the other hand, clearly it's bad for the publisher, and may explain the paucity of real content. It may also explain the cost per page: issue price rose from $1 to $2.50 to $5.99, which is almost constant in normalized present day dollars; but we get less and less pages and articles for this investment.
For my part, I miss the fat issues… and even some of the old ads, which in this particular publication could be fairly interesting themselves (e.g. see the ad here).