The other day I noticed a car whose side mirror had recently undergone some major trauma, losing its mirror and outer casing, ignominiously showing its guts. Here: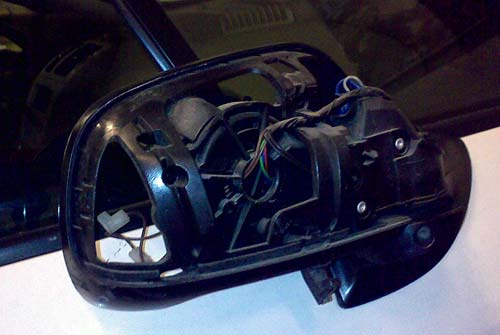 These electrically-operated mirrors are now ubiquitous, but this brought home the complexity of their inner mechanism, with the wiring, motors, pivots and the chassis that everything must screw onto.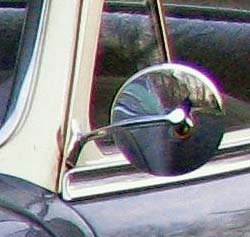 Which made me think for a moment of how far forward – or is it backward? – we've come from the days of the simple mirrors still seen on vintage cars, as in the photo at right. In the fifties, a mirror was just that – a round sheet of silvered glass fixed in a round metal plate that pivoted on an arm. That was all – 4-5 parts, max, all externally visible. No innards at all. And cheaper to replace, I'm sure, than the bill the owner of the car in the first photo will face.
This growth in complexity is seen in all parts of our cars and other products. So speak up – is this trend a Good Thing (it is really comfy to move the mirror from inside the car, to be sure) or Bad (loss of elegance in design, for one thing)?
Photo courtesy Glen Edelson, shared on flickr under CC license.