The key idea of Human Engineering is to design the product to fit the humans using it. Makes sense? Sure does, but there are also cases of the opposite approach; Select the human to fit the task or the product!
Obvious examples abound in sports, as with the physical attributes of the horse racing jockey and the basketball player (and while we can't change the horse's reaction to a heavier load, we could actually lower the basket if we were designing it to fit the average human…)
A technological example would be the Soviet solution to giving battle tanks a low silhouette: make the tank low, and recruit soldiers of short stature to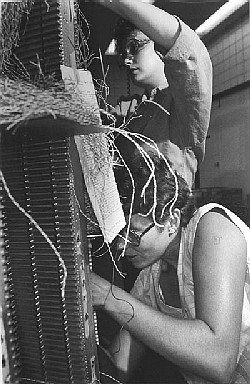 crew them.
But an example I really like has to do with the construction of the Cray 1 supercomputer in the 1970s. This elegant computer was built in a round form with the electronics modules on the outside and a central cavity surrounded by the wiring connecting them (the same idea, more or less, is used in the human brain). The wires – huge numbers of them – had to be soldered correctly in the narrow central space, a nightmare task. So how did they manage it?
I once met a veteran of Cray Research at the Computer History museum and he explained it to me. Cray hired women for this task – ones selected for their patience and precision – and they put two of them on each machine: a tall girl to solder at the top of the structure and a short one to work the bottom. Unbelievable? Look at these photos!