These days food products come with lots of information, as mandated by our well meaning consumer protection laws. Information, however, does not always enlighten us.
I was looking to try a butter spread that doesn't harden into a brick in the fridge. There are many such products on the supermarket shelves, each proclaiming its virtues – "Naturally soft!", "Easy to spread!", and so forth. What they fail to explain is what about the product makes it resistant to hardening. Is it a mechanical texture? A chemical additive? A food chemist would probably figure it out from the ingredient list, but not us regular mortals.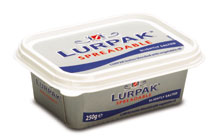 So I want to give kudos to Arla foods, the Danish maker of Lurpak butter. Their spreadable product bears the following inscription: "Made with specially selected butter, blended with just enough natural rape seed oil to make it easy to spread directly from the fridge".
This may be less quantitative than the usual ingredient list, but it makes a great deal more sense: you can immediately grasp what was done to the butter, to what extent (what a clear image, "Just enough"!), and that no "unnatural" acts were involved.
And indeed, it does spread well directly from the fridge.