Modern car dashboards have numerous indicators and controls. Some are necessary: without a fuel gauge, for instance, we'd be in frequent trouble. Others are optional but quite useful: the rear collision warning beeper is a good recent arrival. But one indicator is totally unnecessary, yet present in a great many car models: the Tachometer, or engine RPM indicator.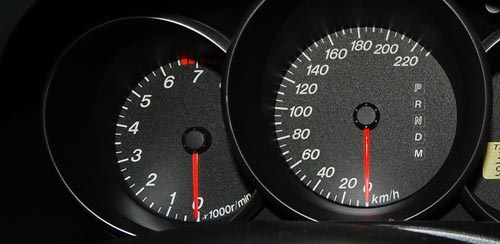 This meter is very impressive, to be sure, and on a race car would be quite useful to help the driver wring the ultimate performance without destroying the engine. But this meter, at left in the photo, is not from a Formula 1 car; it's from my faithful but mundane Mazda 3, with which I navigate the congested roads daily to get to work. You think I constantly glance at the tachometer to set the gears so my engine's not redlining, when I'm stuck in traffic jams half the time? Even if I were so inclined, this car has an automatic transmission!
Fact is, nobody uses this indicator on a family car; yet the manufacturers put them in – adding just a little bit extra to the waste of energy and resources needed to produce the car. I suspect this is another of the cases where fashion, vanity and marketing get together to override commonsense design – we get this meter because it looks flashy, fashionable, macho… hey, I have an RPM gauge like the race track pros!
Millions made – none needed 🙁