Recently I replaced my old Mazda 3 with the new model. The two are practically identical – why mess with a good thing? it's a fine car! – but there are some minor differences, and I'll be blogging them now and then… they afford us a peek into the design team's thinking processes.
Here is the trunk door on the previous model. The problem is, it is not spring loaded; to open it you had to press the lock button and then claw it open by trying to pry up the bottom edge, which is a tight fit to the bumper below it (on most cars the door at least has some depression, perhaps for the license plate, where you can grasp it; this door is smooth and lacks any such grab point).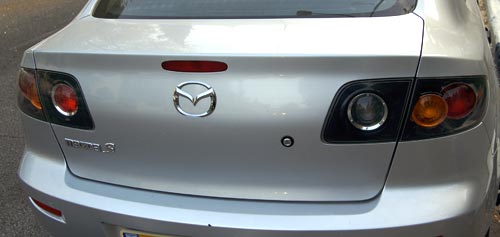 Quite annoying, and a lovely bit of poor usability. In fact, I saw one of these cars on the road whose enterprising owner had screwed a handle – from a kitchen drawer, by the looks of it – onto this door!
So here is the same door on the new model. Same door – one key difference: now there is a depression in the bumper to allow you to grasp the door.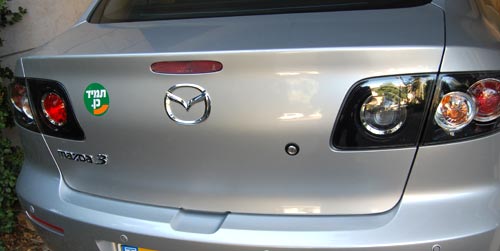 People must have been complaining – and the design team at Mazda had been listening. Better late than never!