I was putting in order our bookcase of Science Fiction, and noticed an interesting fact best illustrated by the two piles of books in the photo.
One pile has three books, all written after 1980. The other has eight books written in the fifties, the later part of the "Golden Age" of Science Fiction. And the two piles are the same height.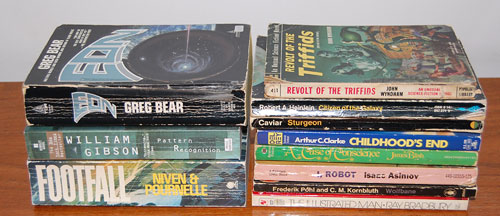 Fact is, most paperbacks published recently tend to be much longer than the "Pocket books" of the fifties. They can easily exceed 400 pages, where their predecessors ran happily to 200 or so. And the sad thing is, this does not make them better. The three fat books in the pile at left are certainly good – but the other pile contains absolute classics like Bradbury's The illustrated man, Clarke's Childhood's end, and Asimov's I, Robot (the wonderful short story collection, not the silly movie); the others, by such masters as Sturgeon, Heinlein, Blish and Wyndham were likewise influential and a joy to read.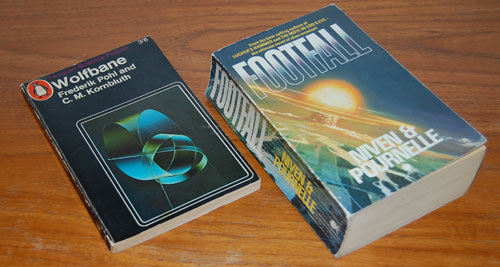 Here, go read Footfall (1985), all 700 pages of it, and Wolfbane (1959), with a mere 160; both are wildly imaginative works, good SciFi indeed, but the GPP (goodness density per page) is on the skinny tome's side. In fact, it makes me wonder, why did authors become so much more verbose of late? Any ideas?