With the wonders of Google Maps at our service, we can get some interesting insights. Take the photo below, also viewable here. This is the older part of the Microsoft campus at Redmond, where much of the software in the computer I'm writing this on was developed.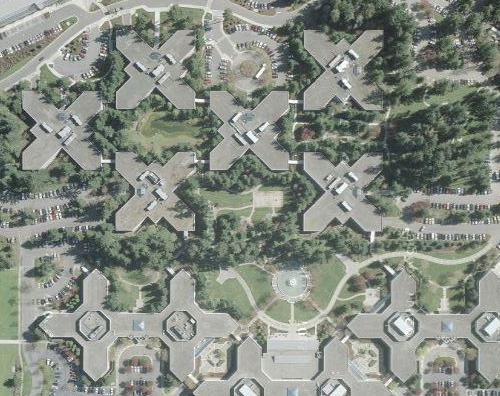 Notice how the buildings all have cross shapes visible in their plans. This is not because of a religious bias in the company's management. It is, I was told when I visited there, because Bill Gates had decided when he started the company that an effective software engineer needs the peace and quiet made possible by an office with a door. Indeed, while myriads of hi-tech engineers (yours truly included) work in cubicles in the noisy open space made famous by the Dilbert comic strip, Microsoft coders all have their own individual offices with real doors to block out the world when they need to concentrate. Of course such an office requires a window too, or it gets claustrophobic… which explains the shape of the buildings – with a need for so many windows, they had to be made with a convoluted outline, to maximize surface-to-bulk ratio.
For my part, I admire the tenacity – Microsoft moved to Redmond in 1986, and 22 years later they still resist the temptation to compress their engineers into cubes. They have a good thing, and they stick to it!