Passing through an airport I bought the book "Boeing 777: the technological marvel" by Norris and Wagner. This gives many fascinating insights into the novel design methodologies that went into the 777, my favorite jetliner. It also introduced me to one of the ugliest airplane designs ever to disgrace a designer's sketchpad.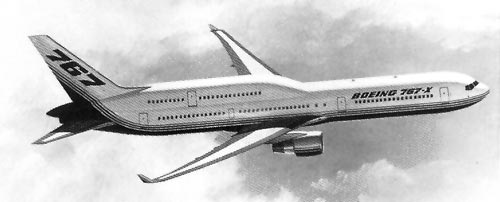 The Boeing folks were looking to build a plane larger than a 767 and smaller than a 747; one idea they tried was to graft half the cabin of a 757 on the rear half of the larger 767. You can see how endearing the result looks; in fact it earned the nickname "Hunchback of Mukilteo", after a town near the Boeing facility.
There were many reasons why this version never proceeded off the drawing board, not least among them the disgusted derision of potential customers. But what I like best is that a key reason, according to the book, is that the design failed Boeing's "LAR rule" – which stands for "Looks About Right". If that is indeed their guideline, they are a smart company indeed: good design has an ineffable elegance to it, and no engineer should be forced to build something that offends their aesthetic sense.