Parking lots try to cram as many cars in as they can (the ones that charge you to park do, anyway) and so it often happens that you exit the car only to find you've overstepped the white line. If you're conscientious like me, you get back in, restart the motor and wiggle the car the few inches required to fit in your own space. The problem is that you can't really see the lines in the last stages of the parking maneuver…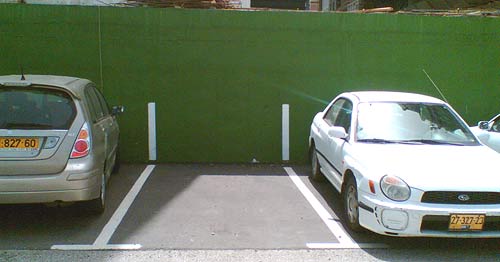 So I was in Tel Aviv the other day and saw a simple fix to this problem. Look in the photo: they extended the white line up onto the wall! That way you can see the boundaries in front of you (or back, through the mirror) as you move in.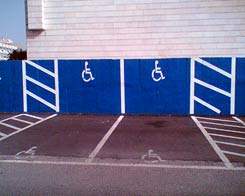 While they were at it, they also did the handicapped spaces – now no one can say (honestly or not) that they didn't notice the faded symbol on the pavement; if you park in one of these spaces, it stares you right in the face.
Good thinking!