A humorous video review from CNET on the Lenovo Design Matters blog (yep, these guys have a blog where their designers interact with their users – a commendable idea!) compares the Thinkpad X300 to the MacBook Air. Nicely done – take a look.
Interestingly, the reviewer mentions one favorite feature of mine in the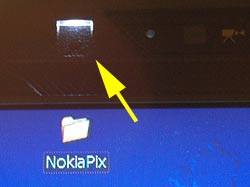 recent ThinkPad notebooks that many users may be barely aware of: a little white LED in the screen's frame that illuminates the keyboard. This is useful for when you work on an airplane at night and prefer to leave the overhead reading light off (whether out of consideration for your co-travelers or for your battery life – in the dark you can work at the screen's minimal backlight intensity).
This LED in itself is a great design idea, but I'm even more impressed by how you turn this lamp on: you depress the Fn key and the PgUp key together. Why is this impressive? Because these two keys are located diagonally at the opposite corners of the keyboard; this means you can find them – by touch – in absolute darkness, which is where you're at if you need a light in the first place.
Incidentally, this is how I discovered this feature during one long flight – I was groping to find the Fn key combination for increasing the backlight level, hoping to have the screen itself illuminate the keyboard, and I accidentally hit the right keys. And there was light!